Marketing for Sales.
The popular notion of a "sales funnel" is nice and simple. If only it actually worked that way. In reality, selling is a building process and an uncertain journey. But you can map the way and equip well. Complex, contractual, long-term, B2B relationships are earned by achieving the following objectives:
Awareness
Education
Trust
Buy-In
Decision
Equipping your sales effort with the right tools at the right time can provide much-needed momentum throughout the process. Each has a given purpose, establishes the right impression, makes a key point, answers a frequently asked question fully or provides reassurance regarding a common concern.

It's not about replacing sales talent with sales tools. It's about leveraging your Total Sales Investment with Sales Tools created for actual situations and needs — adding momentum to the process.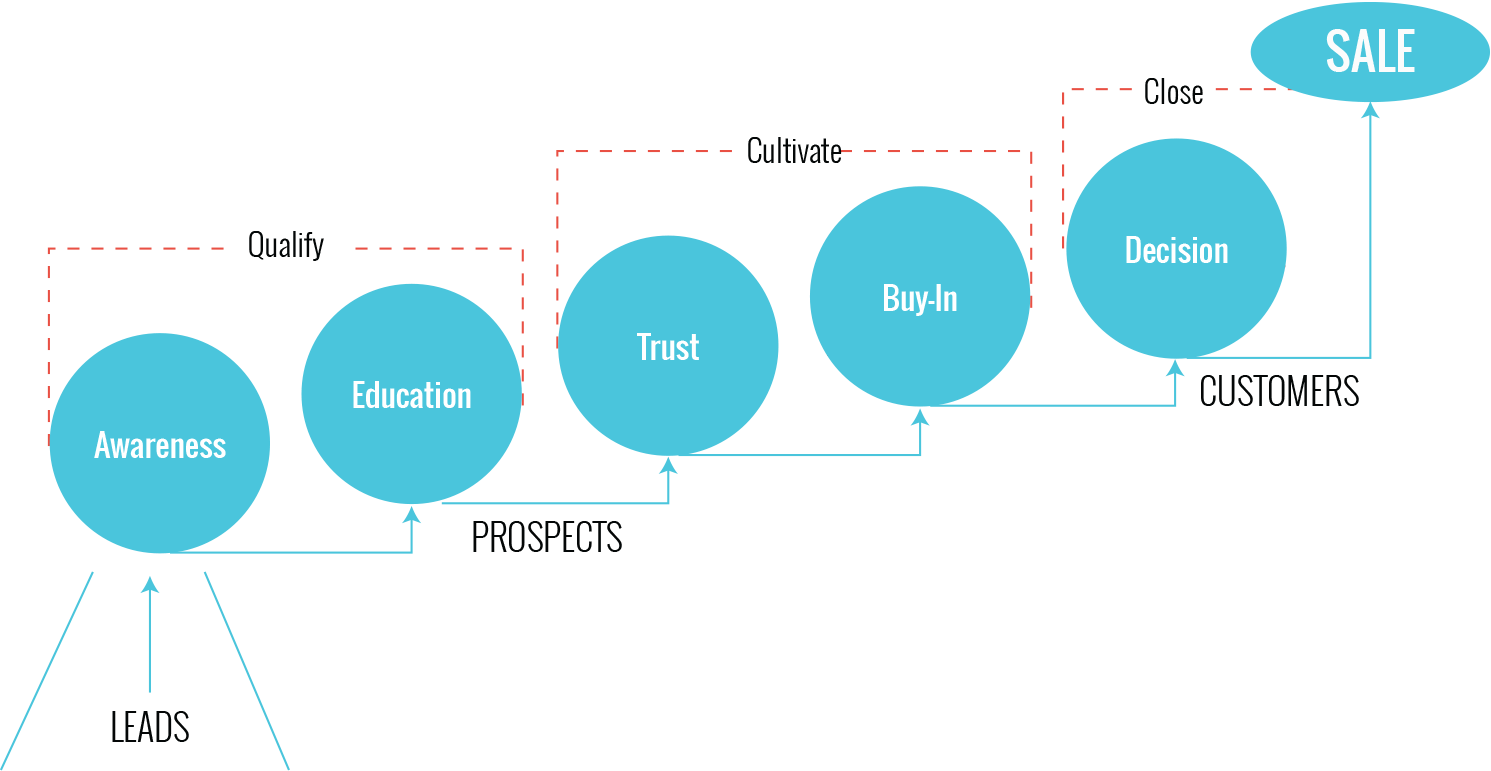 VALUE PROPOSITION
Communications designed around your sales process
Increased sales productivity
Overcoming sticking points
Anticipation of questions; being more proactive
Accelerating sales performance

OBJECTIVES AND TACTICS

AWARENESS: Get Noticed & Engage
Lead Generation Email/Direct Mail
Advertising: Digital & Traditional
Concept, Design, Content
Trade Show & Pre-Show Impact
Social Media Content
Website Content
EDUCATION: Establish Understanding
Company/Product Introduction
Topic Overview & Info-Graphics
Product Demonstration
Video/Animation
Technical Diagrams & Illustration
Technical Writing
Sales/Sampling Support

Product/Sales Kits
Internal Sales Organization Announcement/Instruction
Sales Training Materials
Sales Organization Motivation/Incentive
Unique/Useful Promotional Leave-Behinds
TRUST & BUY-IN: Achieve Customer Consensus
Expert & Customer Testimonial
Performance Data Presentation
Competitive Comparisons
Case Studies
DECISION: Quantify the Benefit
Value Proposition Demonstration
Custom/Editable Marketing Forms
Formula/Calculation Form
OUR SERVICES
Marketing/Sales Situation Analysis
Sales Process Mapping
Sales Collateral Program with Full-Process Continuity (Digital, Printed, Video)
Creative Concept, Design, Content
Production to completion